The Met Office said at least 29 observation sites across England had provisionally broken the previous all-time maximum U.K. record of 101.6 F, which was set in Cambridge Botanic Garden on July 25, 2019, as of late Tuesday afternoon.
It said earlier on its website that the ongoing heat wave was the first time it had forecast temperatures of 104 F.
The record-breaking heat marks "an exceptional historic day, really, for the U.K.," Craig Snell, a meteorologist for the Met Office, told NBC News in a phone interview. "It's certainly going to be going down in the record books."
The surge of fires in and around the capital comes at a time when once-green parks and lawns in parts of the U.K. now look more like deserts after the ongoing heatwave left lawns parched and yellow.
A "significant grassfire" was raging in Dagenham, east London, on Tuesday evening that was affecting "a range of buildings and a workshop," Borough Commander Paul McClenaghan said in a statement. One woman and a man have been hospitalized with smoke inhalation in the blaze, the London Fire Brigade said.
Fifteen fire engines and around 100 firefighters were tackling the flames on Ballards Road.
In Wennington, 15 fire engines and around 100 firefighters were dealing with a blaze on The Green. Firefighters were also tackling two simultaneous grass fires in Croydon on Oaks Road and Chapel View on Tuesday, the London Fire Brigade said.
The brigade said it also had eight fire engines and around 60 firefighters tackling a blaze in Wembley in northwest London. "Our control room has taken more than 40 calls to the fire," it said, sharing video of the scene, where heavy smoke billowed over businesses.
In New Eltham, an area of southeast London, a building that appeared to have a business on the ground floor and residential space above could be seen burning in video shared on social media. It was not immediately clear whether the blaze was related to the heat.
The Nottinghamshire Fire and Rescue Service also declared a major incident in connection with a fire on a farm that spread into a forest Tuesday afternoon. Residents in the area were being evacuated Tuesday evening and 15 crews from around the county were working to quell the fire.
The London Fire Brigade urged locals to avoid barbecuing on grass or balconies, to not leave broken bottles or glass on grass as it can start fires and to dispose of cigarettes safely.
Earlier, the brigade said it had called for an "urgent ban of disposable barbecues in parks and public spaces as firefighters continue to feel the effects of unprecedented heatwave temperatures for a second day." It said it had already attended more than 1,000 grass fires since June.
The Met Office had said that parts of the U.K. could experience temperatures of more than 104 F on Tuesday when it issued a "red" warning for extreme heat for much of central, northern and southeast England.
It said parts of the country had "provisionally" experienced the warmest night on record in Britain overnight, as well as the "highest daily minimum temperature."
"Temperatures didn't fall below 25 C (77 F) in places, exceeding the previous highest daily minimum record of 23.9 C (75.02 F), recorded in Brighton on 3rd August 1990," it said in a tweet.
The Met Office warned that Tuesday's extreme heat could lead to "serious illness or danger to life." As a result, it has said that "substantial changes in working practices and daily routines will be required."
In a Twitter statement late Tuesday, the London Ambulance Service said that it was receiving 400 calls an hour, saying there was sustained demand on its emergency service lines as a result of the heat wave. It said it was seeing an increase in the number of patients experiencing heat exposure.
A 14-year-old boy was also believed to have drowned in the River Thames in the London borough of Richmond after "getting into difficulty" in the water Monday, the Metropolitan Police said.
"Despite the very best efforts of all involved, we must now sadly conclude that this young boy has died," Superintendent Richard Smith, from the South West Command Unit, said in a statement. "His death is a tragedy and I cannot begin to imagine what his family will be going through. All our thoughts are with them."
"I know that on days like today when temperatures are at a record high, it might look appealing to jump in and cool off in rivers, reservoirs, lakes or other open water," he said. "Please don't. The dangers are real and this evening in Richmond we have seen the terrible consequences of what happens when it goes wrong."
The Met Office also warned of a "high risk of failure" of heat-sensitive systems and equipment, which could lead to localized losses of power and other essential services, including water or cellphone services.
London's busy Oxford Circus station was evacuated Tuesday morning following reports of smoke from an escalator machine room. The Fire Brigade said the smoke was due to escalator brake pads overheating. 
Network Rail, which runs most of the railway network in Britain, issued a "do not travel warning" for services traveling through the "red zone" Tuesday. Meanwhile, other rail and train services have been canceled or reduced due to the extreme heat warning.
The rail network  also recorded its "hottest rail," which clocked in at 144 F.
Meanwhile, Avanti West Coast stopped all train service for the rest of the day "due to the extreme heat causing multiple incidents across the network."
While the U.K. has experienced warm weather before, scientists have said these soaring temperatures are becoming increasingly common due to climate change propelled by the greenhouse gases that humans are pumping into the atmosphere.
Snell noted that this week's hot weather came after scientists for decades predicted increasing heat waves and other extreme weather due to climate change.
"We can't directly link everything to climate change, but what we can probably say is that this heat wave has probably been enhanced by climate change," he said.
In Britain, many homes and businesses are not equipped to deal with high temperatures, with air conditioning uncommon outside of offices and public spaces, while many homes were built in the 1800s and have thick brick walls that absorb heat in the day and retain it at night.
Politicians and government advisers have increasingly warned that homes and essential services in the U.K. must be adapted to prepare for rising temperatures in the years to come.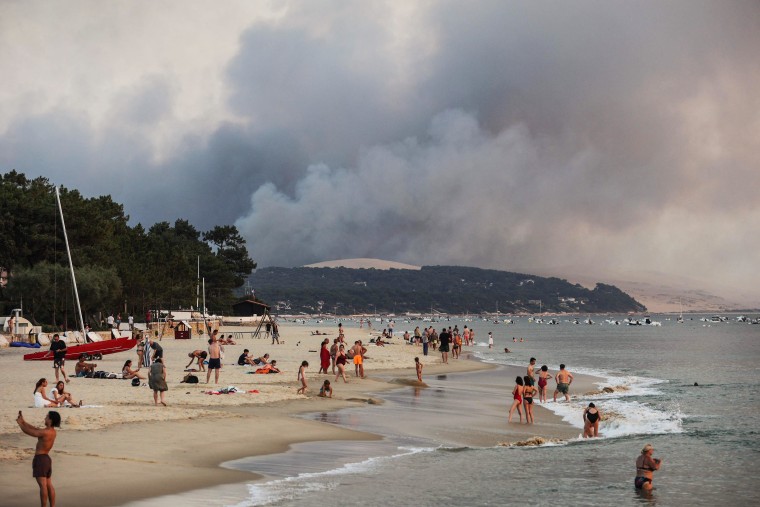 "The planet is hotter than it's been for 125,000 years. We've got 1 degree of warming so far, but I don't want to be a doom-monger, but we're going to get more than 1 degree of warming, that's the average, and that will mean more extreme heat … and we are not ready as a country," Ed Miliband, Britain's shadow climate change secretary, told Sky News, which is owned by NBC News' parent company, Comcast.
In the U.K., the "shadow cabinet" consists of opposition members who scrutinize the policies and practices of their corresponding government ministers.
"We are not ready on this at all," Miliband said. "Not by a long shot."
As the United Kingdom grapples with the extreme heat and fires, neighboring France's southwestern region of Gironde continued to see wildfires spreading to 27,000 acres, forcing thousands to flee their homes. And in Portugal, where wildfires are also raging, more than 650 have died amid soaring temperatures.
In Spain, shocking video emerged this week of a man in the northwestern town of Tábara forced to jump from an excavator after trying to dig a trench to safeguard his town from a wildfire.
As the blaze closed in and started to engulf the digger, Angel Martin Arjona was forced to jump out and run for his life, Reuters reported.